Village information Samoens 1600, France
About Samoens 1600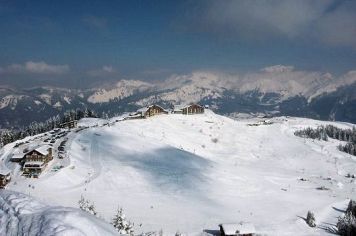 The Samoens 1600 ski resort and ski hire facility can be found nestling beneath the Rhone Alps in the Haute-Savoie region's Vallee du Griffe. It is centrally situated, being only an hour away from the Geneva Airport and a mere 12 miles from the nearest train station. The resort lies 1,600ft above sea level - hence its name - and the nearby village was recently designated one of France's most attractive towns and awarded the title "Ville Fleurie". 2,396 people currently live in Samoens and, although the majority of them work in the ski and ski hire industries, the town is also famous for its stone masons.
Show sights
The Samoens 1600 resort is part of the Grand Massif group, which also includes the superb skiing and ski hire complexes at Morillon, Les Carroz, Sixt-Fer-a-Cheval and Flaine. The Grand Massif Express ski lift runs from the Samoens village and takes skiers up to the Plateau des Saix skiing area, where they can choose from an awe-inspiring array of skiing activities including heliski, cross country skiing, ski mountaineering and the exciting new sport of sliding and gliding. After removing your skis and returning them to the Samoens ski hire co-ordinators, why not try your hand at ice skating and snowshoe trekking or, if you're feeling lazy, just take a tour of the frozen waterfalls. Many new activities also become available in the summertime, including rock climbing, hiking with pack donkeys, paragliding and waterskiing. And after a day of strenuous exercise, why not take time to relax in one of the resorts many restaurants and pubs?
Show destinations
If you ever tire of skiing down the Samoens slopes, there are enough attractions near the resort to keep you busy for weeks. First on your list should be a walking tour of Samoens village to see the legacy left in limestone by the remarkable stonecutters or "frahans". Nature lovers should visit the Botanical Gardens, the nearby "Queen of the Alps" 80m high Rouget Waterfall and The Gros Tilleul - large lime tree - that was planted in 1438 and is still going strong. A visit to the Farm Folk Museum, a walking tour of Cirque-du-Fer-a-Cheval, France's second largest mountain cwm, and a trip to taste the fine wines and liquors of Peres Chartreux will round out your Samoens experience. But, despite all these wonders, nothing can beat the Samoens 1600 skiing and ski hire resort for sheer skiing brilliance!