Village information Les Menuires, France
About Les Menuires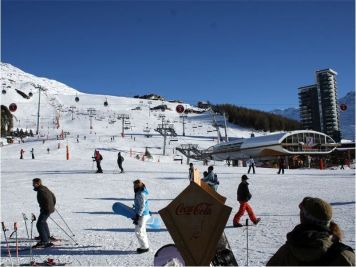 Les Menuires is cozily nestled in the Belleville Valley, situated in the Savoie Departement of France. It is a lovely ski resort area with fabulous scenery. The ski hire scene in this area is one of the best available on the market today. Equipment can be rented for daily rates that make ski hire in Les Menuires one of most economical options to a traveler of limited means or who doesn't wish to take bulky equipment with them via commercial travel methods. Vacationing in Les Menuires can be the most budget friendly of the Three Valleys area, with a huge selection of bars, restaurants, and shops available in the area. Les Menuires guests can easily access great skiing and fabulous Les Menuires ski hire packages. The options for travel are limitless and can range from a simple one day pass to an all inclusive fabulous dream vacation. Every option can be explored and custom tailored to your budget needs. Taking a day trip to this enticing valley is a great way to introduce your family to the Les Menuires ski area.
Show sights
The Les Menuires area is the former host of some of the 1992 Olympic Games, and making a ski hire part of your trip can be a gratifying way to economically explore the area. With 48 restaurants, 39 ski lifts, and 62 trails, the opportunities to explore the valley cover a wide range of ski expertise. Les Menuires offers everyone the opportunity to enjoy a scenic ski trail, from the beginner to the expert. The area surrounding the French Alps includes some of the world's best scenery. With majestic beauty surrounding the picturesque town, photographing your journey is a fantastic way to make your memories last. Some of the world's premiere ski opportunities can be experienced at Les Menuires, and for the casual skier, ski hire can be a fantastic way of enjoying a day on the slopes without the hassle of packing your own equipment.
Show destinations
For the non skiing members of the family, the new sports center offers swimming accommodations, and the central shopping mall make visiting Les Menuires an interesting trip. For those interested in Baroque style architecture, the churches down further in the valley and the pastoral scenery in the area is the perfect way to spend a leisurely afternoon. For a more active fun filled day, there are tennis and basketball courts, as well as a Fun Park equipped with trampolines and bouncy castles for the children's pleasure. With castles, museums, medieval towns and the Winter Olympic Games Museum all within a short driving distance of the Les Menuires area, this is the perfect spot to take your family vacation. Make Les Menuires the center of your next vacation.