Village information Super Besse, France
About Super Besse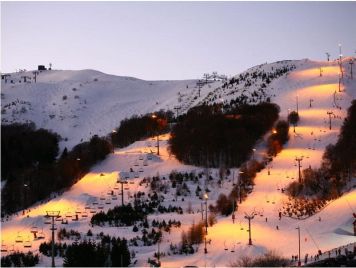 Super-Besse is a resort town in the Massif Central near the Puy de Sancy which is the highest mountain in central France, and is associated with a ski resort of the same name. The town is situated between 1350 and 1850 m above sea level. Ski hire in Super-Besse is available and the trails connect with the trails of the nearby Mont Dore. It is located in the Department of Puy-de-Dôme in the Auvergne Region, about 7 km from the town of Besse et Saint Anastaise.
Show sights
Each summer about 10,000 visitors come to the Estive Festival which celebrates the migration of Salers cattle to the summer pastures.
Every other year, the final auto race on ice, for the Andros Trophy, is staged here.
As well as Super-Besse ski hire, the resorts offer massage, jacuzzis, saunas and exercise rooms.
In summer, Stage 6 of the Tour de France ends at Super Besse.
There is a ski museum featuring many wooden skis, recounting the history when a priest brought skis from Germany in 1902. After initial ridicule, by 1907 ski competitions were being held.
The entire area is known for many opportunities for active recreation.
Lac des Hermines is a considerable body of water and serves in winter as a source from which artificial snow is made. However in summer it is popular for sailing, wind surfing, swimming and fishing.
There are many trails for hiking, horseback riding, and mountain biking.
Paragliding is another local option for the adventurous.
As well as ski hire Super-Besse, snowshoeing is also possible in the winter.
Show destinations
The Auvergne Region has two National Parks, 10 thermal spas, over 500 castles, and over 500 medieval churches. It is well known for its beautiful landscapes.
Auvergne Volcanoes National Park, only 40 minutes away, is the largest National Park in Europe with ancient volcanoes and crater lakes.
Livradois Forez National Park is a series of wooded, granite plateaux split by the Dore Valley and the Allier River. The park is noted for many lakes and water ways.
In the Department Puy-du-Dome one can visit:
About 7 km distant is the town of Besse et Saint Anastaise with cobbled streets and a rich history from the medieval and Renaissance periods.
Nearby ski resorts include Le Mont-Dore, Chastreix-Sancy, Le Lioran, Chalmazel, and Le Grand Val. Ski hire is possible at the resorts or in the nearby towns.
An outdoor art park and show is held on Massif du Sancy each year.
The town of Menat has an abbey and palaeontology museum.
Chateauneuf les Bains is a town of mineral spas.
Pontgibaud has a mining museum.
Orcival has a medieval basilica and castle.
The Auvergne is noted for the production of cheeses, and tours of the makers can be taken.